Since 1949, we have been creating mouth watering breads, muffins, cookies, pastries, donuts, pies, tarts, cakes, squares, bagels and SO much more!
Baking with our own special recipes since 1949, our time honoured, traditional goodness just keeps getting better and better! Bring something special home to your family today, or surprise your coworkers with a delicious afternoon treat! From our famous cream filled donuts to nourishing, hearty breads you won't be disappointed!
Come see why our baking has made Dooher's a favorite stop in the area!
Sweetest Bakery in Canada!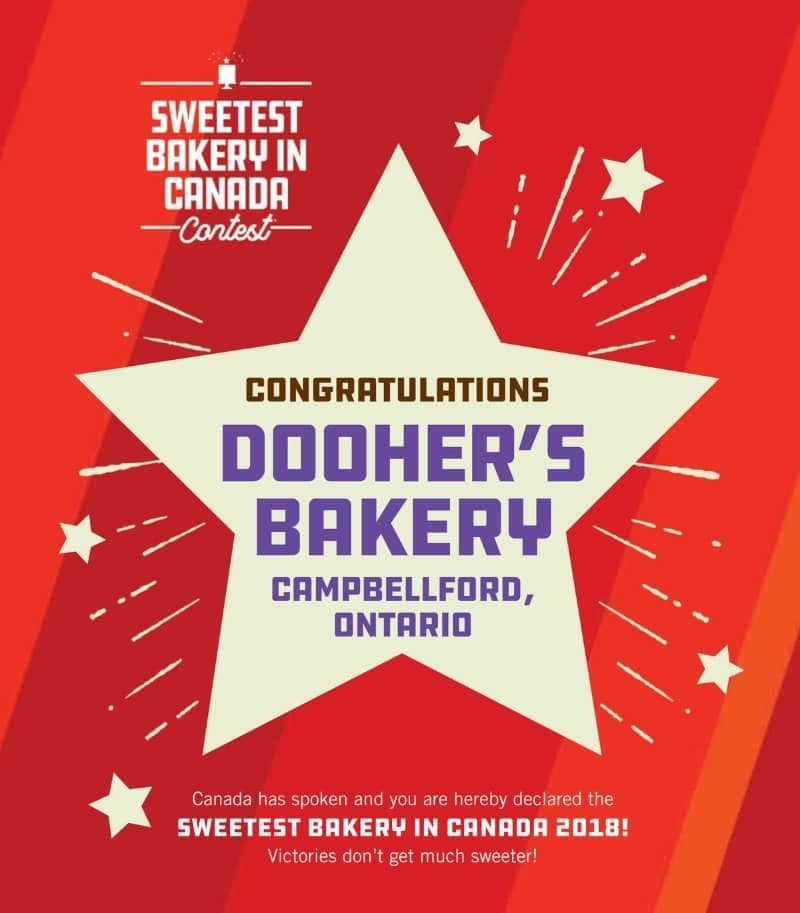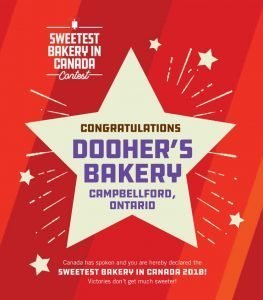 On Friday, September 14, 2018, Dooher's was voted The Sweetest Bakery in Canada! Thank YOU for voting and supporting us along the way! A community-wide celebration will take place to celebrate the win on Saturday, May 4, 2019. The afternoon features a complimentary BBQ, face painting, giveaways and FREE DONUTS! The fun continues into the evening at the Campbellford Arena for a liquor-licensed dance featuring live music with 'Tastes like Chicken', raffles and refreshments. EVERYONE IS INVITED and we hope to see you there!
Tuesday
7:00 AM

-

5:30 PM
Wednesday
7:00 AM

-

5:30 PM
Thursday
7:00 AM

-

5:30 PM
Saturday
7:00 AM

-

5:30 PM
AUGUST LONG WEEKEND 2019:
Friday, August 2 OPEN 7 am to 6 pm
Saturday, August 3 OPEN 7 am to 5:30 pm
Sunday, August 4 CLOSED
Monday, August 5 CLOSED
We are closed on all statutory holidays.
*Open Sunday's in December through Christmas Eve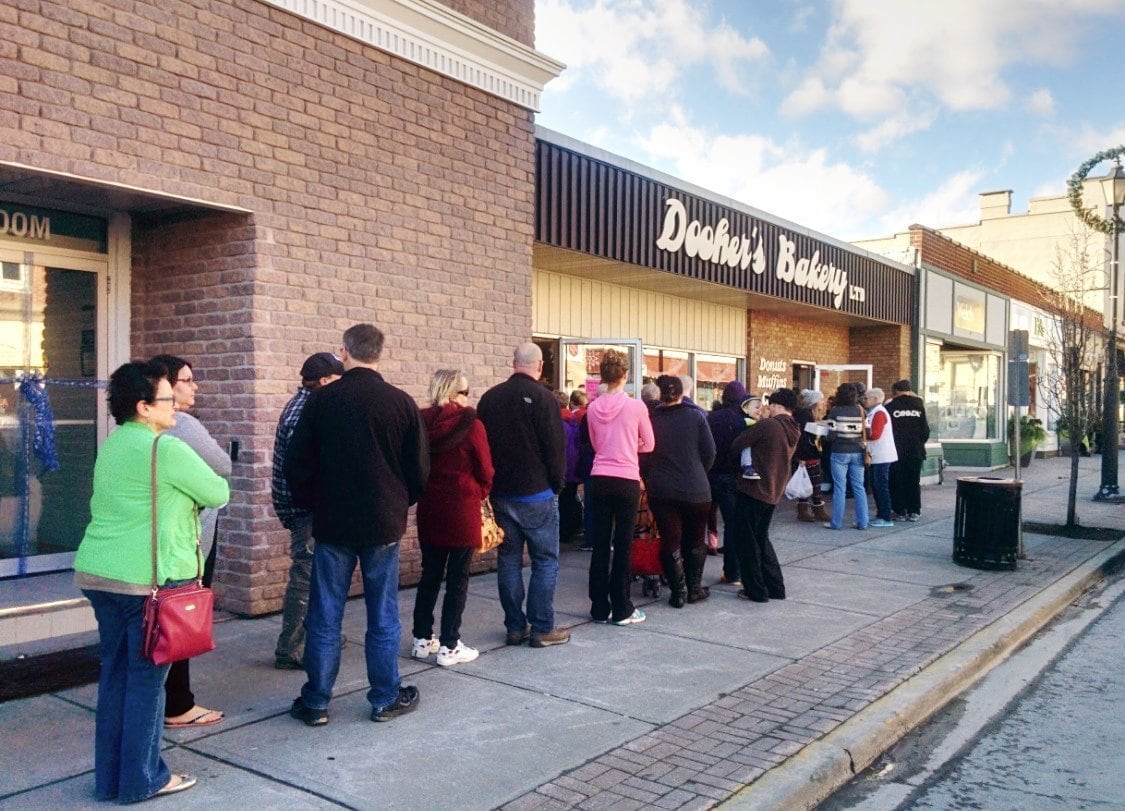 Apple Fritter
Boston Cream
Chocolate Dip
Cinnamon Sugar
Cream Filled
Cream Filled Crueller – Chocolate
Cream Filled Crueller – Plain
Crueller – Plain
Crueller – Chocolate
Dutchie
Honey Dip
Jelly Filled
Maple Dip
Maple Walnut Dip
Orange Twist
Vanilla Sprinkle
Congratulations! Would you love to enjoy fresh, homemade baked goods from Dooher's Bakery on your wedding day? We would be happy to be a part of your special day! Dooher's donuts have become a signature dessert at numerous weddings across the province, in place of the traditional wedding cake. Download our For your Wedding Day information page below to view our selection of the most 'popular' baked goods and details on how to order.
9 Grain
Canadian Harvest
Cheese
European Sourdough
Foccacia
French
Italian
Italian with Garlic
Pumpernickel
Raisin
Rye
White
Whole Wheat
Whole Wheat – Sugar Free
The best local shop incredible staff and INCREDIBLE sweets and goodies.
The most amazing cream-filled donuts I have ever had! So sad I live from far or I would eat here every day.
Amazing little bakery! There is SO much to choose from. Everything I have tried has been absolutely delicious! Best to go in the morning. Yummy!
I love this place! Okay I say that about nearly every place I go but I truly was rooting for this place to win the "Sweetest Bakery in Canada" contest and was thrilled when they did! Always packed with customers who are often repeat ones, with many travelling to this small town, just for the bakery, tells you they take pride in the items that they sell and the customers that they serve. I def. will be stocking up on items prior to leaving Ontario!
I have to admit Dooher's is one of the top choices of bakery so far for me. Their cream filled donuts, fruit tarts, fruit and cream cheese danishes, fruit-filled oatmeal cookies… just to name a few, they are absolutely delicious… I don't eat these kinds of bad temptations but I caved in and chomped down a few of those tarts.
The best bakery, anywhere. Hands down. Their blueberry crumble pie was incredibly tasty, with the perfect proportions of crust, topping, and blueberries. Their doughnuts are always a delicious choice, and the bread is better than anything you'll find at any grocery. Any time in within twenty minutes of Campbellford I'll detour in just to stop here. It's so good!!
I've been going to Dooher's for years and I've never been disappointed in anything they have to offer. Their donuts are the best I've ever had, and they staff is so welcoming and friendly. 10/10 would recommend.
Everything is amazing! Doughnuts are out of this world! The coconut cream pie is without a doubt, THE BEST I'VE EVER HAD! OMG!! You'll never be disappointed. The staff are very helpful & patient. Because sometimes it's hard to choose, as you just want it all!!
Amazing Bakery! Delicious Donuts, and great service.
Absolutely the best bakery you will ever find, anywhere!
Best place to grab some butter tarts! I love this bakery, a trip to the cottage wouldn't be complete without Dooher's.
The 3500 mile trip from St Albans, England for a Dooher's doughnut was well worth it! The best we've ever tasted! World famous doughnuts!
Came in for my first time ever today - finally - loved everything I got and regret not getting more.
Best donuts anywhere! Best baked goods. Best bakery!